Two hundred years before the Turks became a problem on our southern borders, there was another threat that almost managed to put an end to Hungarian history: The 1241 Mongolian invasion.
(In Hungarian, we remember it as "tatárjárás" which would probably be best translated as "the coming of the
Tatars
")
Hungarian history classes have a tendency to string our past 1000 years up on losing battles. You have already heard about
Lechfeld
, and
Mohács
- in-between the two, the most infamous is probably the Battle of Muhi, on April 11, 1241. In that battle, the Mongolian army led by
Batu khan
decimated the Hungarian army led by king Béla IV, mostly because the Hungarians were camped in a small crowded area where their own carts and tents kept them form standing into battle formation when the Mongolians attacked at dawn. The king barely got away, and spent the next year in exile.
The Mongolians swept across the kingdom between the spring of 1241 and 1242. And then they left. Sources say they returned home because Great Khan
Ögedei
(Genghis' son) died and Batu wanted to be elected as his successor. Others say they couldn't sustain their immense army on the resources found in Hungary.
Whatever the case, in that one nightmarish year they allegedly killed off 50% of the kingdom's population, raped, pillaged, and burned everything in their wake. It was a historic trauma that left deep-running marks in Hungarian folklore and psyche. All parts of the country have stories about hiding places - places where the villagers could run to survive the invasion, such as caves or marshes. There are also many stories about surviving, tricking the Tatars, or even scaring them off. If someone is too hasty, we still say "don't run, the Tatars are not chasing you." Even recently, 800 years after the fact, people still used to scare their children with "the Tatars will get you."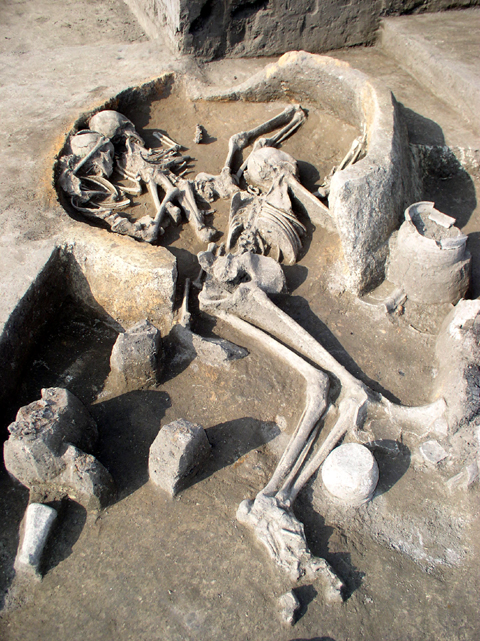 In 2005, an
incredible find
came to light at an archaeological excavation - something that drove it home for me how tangible the terror of the invasion must have been. At the site close to Cegléd a medieval village was found. In one of the small cottages the archaeologists discovered three skeletons: A girl about 8, a boy about 10, and their mother, probably in her 20s. The children were huddling inside the oven, the girl curled up behind the boy who was holding a metal kitchen tool; the mother couldn't get into the hiding place with them, but she lay there blocking the entrance. All three died like that, and the cottage burned down on top of them. They probably didn't have enough time to get away when the Tatars attacked, and the mother tried to hide her children the best she could.